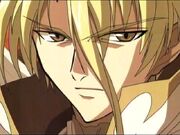 Jeremiel is a dillusioned archangel who's plans are a mystery but he holds an interest in Cinderella and Schmendrik. He has a very pessimistic outlook and is self righteous, disgusted by any form of sin.
Played by Lucida0lownes
Jeremiel is the archangel of visions, life review, and psychic dreams. Due to his powers, he is able to see past, present, and future. He has become disillusioned with the world due to this.
Relationships
Edit
Ad blocker interference detected!
Wikia is a free-to-use site that makes money from advertising. We have a modified experience for viewers using ad blockers

Wikia is not accessible if you've made further modifications. Remove the custom ad blocker rule(s) and the page will load as expected.