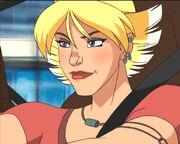 Jezzy Robbins' is the daughter of Emma and Ruthven. She's a dhampir and has a tendency to be very bright and cheery. She's a trained killer though, despite her cheery disposition.
Played by Lucida0lownes
Jezzy is the black sheep of the Shaw family. She was not born with magical abilities (except some ability to sense different kinds of magic). Because of this, Sebastian wished to destroy her. Her mother stood up for her though, and Jezzy has an undying loyalty to her.
Relationships
Edit
Ad blocker interference detected!
Wikia is a free-to-use site that makes money from advertising. We have a modified experience for viewers using ad blockers

Wikia is not accessible if you've made further modifications. Remove the custom ad blocker rule(s) and the page will load as expected.