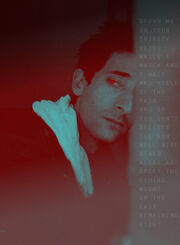 Schmendrik is a character in the roleplay They're All Real (TAR), and is played by DragonofthePen. He is the teacher of religions at Spirit High and is also a magician.
Emily
Odette
Kiba
Jane
Jimena
Katara
Daria
Calla
Ayumu
Holli
Adam
Milo
Kamina
Hercules
Shen
Relationships
Edit
Dean - The counsleor is
Schmendrik was born into a relatively normal family, he has four brothers who all have average professions; a doctor, a lawyer, a real estate agent, and a banker respectively.
Ad blocker interference detected!
Wikia is a free-to-use site that makes money from advertising. We have a modified experience for viewers using ad blockers

Wikia is not accessible if you've made further modifications. Remove the custom ad blocker rule(s) and the page will load as expected.